Giuseppe Beddru
Follow artist and receive updates when new artworks are available
follow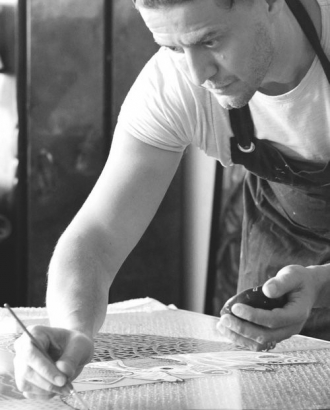 Italian painter Giuseppe Beddru has distinguished himself in contributing conceptual insight to the course of contemporary art by embracing experimentation of non-traditional materials, such as thick superposed Plexiglas-panels. Many of Beddru's multi-media paintings include the visual motifs of classical Greek bas-relief sculpture flattened within the confines of Plexiglas. Athletes and female portraits in profile are reminiscent of coins and popular classical imagery.

Reminiscent of the Fauvist movement and Italian classicism, Beddru's bold outlines, dynamic brushstrokes and contrasting use of color make his work visually exciting. His work is extremely personal as well, drawing upon the Arab presence on the island where he grew up and his own Italian heritage. His paintings are indicative of self-discovery and emotional awareness, while also focusing on color, composition, and technical skill.

The artist represents those who are considered "different" and those who are rejected because of prejudice or ignorance. Popular imagery within the context of Greek history is overturned by atypical characters that populate his artistic world and speak up loud to make their voices heard.