The Optics of Vision
January 2, 2022 - January 28, 2022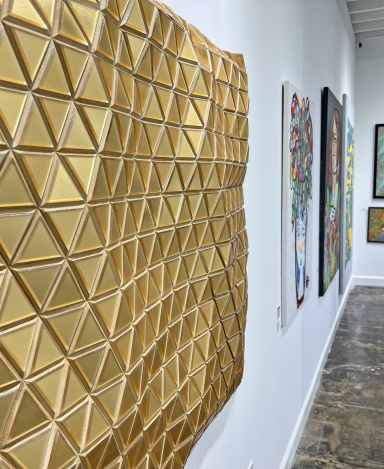 Using the systematic and precise placement of shapes and colors, artists can manipulate perspective and illusion to create a type of chromatic tension or dynamism. This is usually maximized to the point at which an actual pulsation or flickering is perceived by the human eye. The artists featured in this month's exhibition, "The Optics Of Vision", are concerned with utterly abstract formal relationships that make a 2D surface appear three-dimensional or vice versa. In their purposeful handling of formal elements, they evoke perceptual illusions, ambiguities, and contradictions in the vision of the viewer.
Nicola Katsikis draws upon her extensive background in design and color but also keeps working on new ideas, experimenting with new materials and techniques. In the studio, nothing matters but the creation unfolding in front of her. The results can feel serendipitous, unforeseen, and opportune.
Juana Céspedes is inspired by the contagious joy of dance. She imagines the convergence of souls in her hometown of Barcelona as city squares flood with dancers who are celebrating the return of warmer days. Watercolor allows the artist to depict human flow and unique folds in her handmade paper give dimension and allude to the urban spaces which inspire Céspedes.
Hugo Urrutia is interested in conveying a strong concept and exploring different mediums by presenting his message in a very indirect format while creating a visual stimulation for the viewer. His latest series titled Flexible Rigids explores sculptural forms that simulate smooth harmonic movements of a flexible surface, initiating the process from a "rigid "surface.
With his grid artworks, Evan Venegas seeks to create an experience for the viewer that inspires a change in perception or consciousness. Working from his studio in Queens, New York, his geometric paintings are inspired by a heightened self-awareness and a desire to share this experience with others.
ARTWORKS