The Figurative Filter
December 3, 2021 - January 1, 2022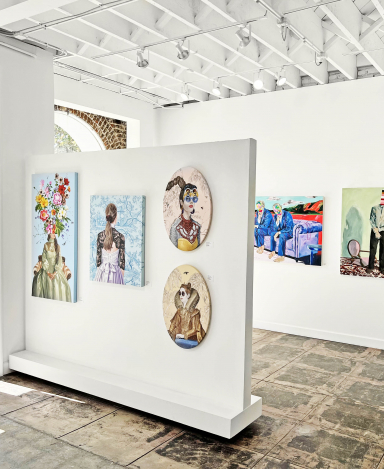 "The Figurative Filter" brings together a new generation of artists who represent the body in radical ways to tell stories and explore vital social concerns. Pushing the notion of what figurative painting can be, the bodies they depict may be fragmented, morphed, merged, and remade but never completely cohesive. They may also be fluid and non-gendered; drawn from life experience, or simply formed from the paint itself.
Quickly gaining nationwide attention for her unique and fresh style, Ash Almonte uses references to abstract expressionism and combines it with a layered figurative aesthetic. Fueled by a desire to create, Almonte began experimenting, using anything she could find to turn into a spontaneous work of art.
As a post-revolutionary Cuban born artist, Carlos Gamez de Francisco paints a bright distorted reality in which he demystifies classical beauty and presents it as more of a natural process in its natural form. The figures in his portraiture-style artworks are superimposed and manipulated through the artist's own experiences of historical figures and events.
Faceless figures in raincoats maneuver through deconstructed color-field backgrounds. Working with a selective palette and controlled lighting, Sebastian Montenegro-Riffo reveals the intent of his work through veils of lucid colors and mysterious forms. The ensuing works refer frankly to socio-cultural icons that shape a subconscious discourse. Absence paradoxically presents clear criticism of current social mores. Through pictorial allegories, the paintings provoke the need to discern new meaning and awaken the tacit human condition of free will.
Peter Colbert's traditional figurative paintings exhibit a whimsical, yet mysterious sense of wander. He portrays the figures in his works with his or her back toward the viewer, allowing the viewer to vicariously experience the figure's perspective of the surroundings and his or her emotional state. While the subject's pose invites the viewer into the scene, each painting creates a new adventure.
ARTWORKS