Marco Pittori
Follow artist and receive updates when new artworks are available
follow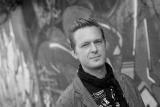 Born in 1978, Swiss artist Marco Pittori has been exhibiting internationally since 1999. He studied at the School of Design in Aarau, Switzerland working in stone, gravure, screen, and letterpress. Pittori has always worked with photography and uses his own or the licensed photographs of others, such as renowned Los Angeles photographer Brad Elterman.

The artist states of Elterman's photos, "Brad's photos provide a rare, often raunchy glimpse into a rock and roll history where it seems Brad is always at the right place at the right time, camera ready." Pittori collects and edits the images, adding additional points of interest throughout the photograph. The current series of Pittori's multi-layered photographs are based on Brad Elterman's iconic images "Behind the Beverly Hills Hotel, 1977". The motifs are carefully placed and layered until they reveal a whole new reality, then they are set in a new context and transformed with the help of strong colors. Pittori creates vibrant pieces that pay homage to the mesmerizing images of Brad Elterman and the mythic culture of 1970s Hollywood.

Pittori's artworks have been exhibited and collected worldwide.