Passport To Vision
January 2, 2021 - February 5, 2021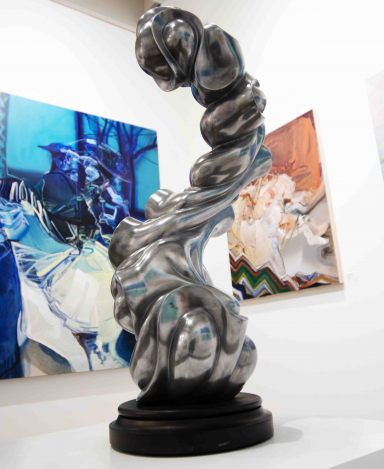 The Law of Attraction tells us to focus on abundance rather than lack. When we focus on positivity, gratitude, and on what we already have that we are able to attract more goodness into our lives. These artists' artworks focus on an overall concept or well-known theme and through their creative process are able to hone in on positivity and importance as the core of their work…much like the process of vision boarding.
To start 2021 off, our first exhibition of the year, "Passport To Vision", features Artplex Gallery artists Dana Oldfather, Sean Keith, and Ruxundra Bocin-Dumitriu.
Dana Oldfather's paintings help her process her existential thoughts and grapple with feelings of dread and insecurity. Exercising an intuitive use of color and gesture, Oldfather cements her position as a contemporary abstractionist. She is an oil painter as well as a dinnerware designer and is completely self-taught.
Solidifying his artistic energies while living and working in Switzerland, Sean Keith is heavily influenced by UK street artist Banksy, his artwork is characterized by a cheeky brand of appropriation using images from popular culture. He subtly alters the picture and its context, shifting the tone to give new meaning to the beloved characters. A common theme throughout his work is money and the insatiable desire to possess it.
Ruxundra Bocin-Dumitriu's elected themes investigate perception mechanisms, digital dimensions and technologies, media and broadcasting issues, surveillance society and society paradigm shifts generated from new technologies. The artist is on an avid quest to understand how meaning is created through interaction, how the translation of actions through different media transforms the meaning itself.
ARTWORKS