Good Vibes Only
May 8, 2021 - June 5, 2021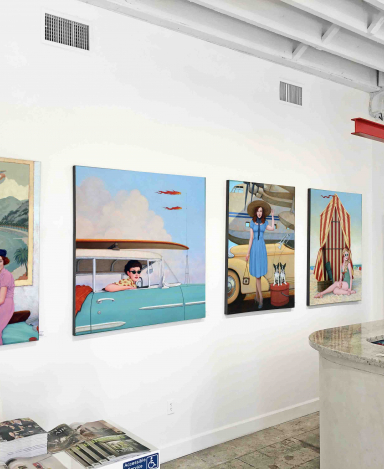 As we begin to emerge from the restrictions of the pandemic and the unsettling atmosphere of 2020, it is time to focus on good vibes only. It is all about Inspiring, creative, and serene energy. Positivity and optimism are what drives the artists featured in this month's exhibition.
"Good Vibes Only", the featured exhibition leading into summer at Artplex Gallery, presents works from Nelson de la Nuez, Jonjo Elliott, and Fred Calleri in a celebration of bold brush strokes, colors, and compositions.
Listed on the "Who's Who List of the Most Collected Artists of Our Time" list, Nelson de la Nuez's works are original, bold and outspoken. De La Nuez's work hangs in some of the most prominent private collections of movie stars, directors, producers, comedians, and corporations. His work has been purchased by Sotheby's for future auctions and his works sell out consistently at major shows such as Art Basel Miami, Art Southampton, Hong Kong Art Basel, and worldwide.
Jonjo Elliot's work is remeniscent of Fauvism and his collections encourage a youthful candor. Plants thrive in environments bathed in color and pattern. His focus is on the crossover between abstraction and representation, and he is constantly exploring where painting can take him and the viewer as a means of expression.
Seeking to capture the simple joys of travel and leisure is what drives Fred Calleri. While the images are inspired by distinct points in time with iconic fashion and memorable designs of once everyday goods, the lively feeling of each painting allows them to transcend the limits of a "retro" identity.
ARTWORKS