Space in a Nutshell
August 22, 2020 - September 25, 2020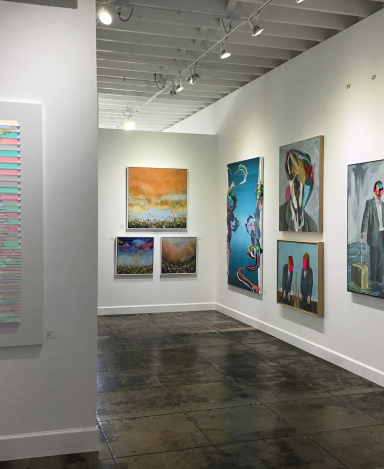 Space in a Nutshell, the featured fall exhibition at Artplex Gallery, presents works from AM DeBrincat, Ben Riley, Hugo Urrutia, and Chris Wood in a paradigm shift of spatial awareness expressing thoughts on complexity, reductionism, and infinite space.
The artists strongly consider the implications of the techniques they use. They provide a new example for the use of materials to illustrate some of the challenges inherent in approaching mixed media works as a complex expression. While risking to lose sight of the boundaries they try to differentiate their artworks with simple formulations that eschew artistic complexity. Not one point of view is better than another, but even the slightest change in viewing angle determines how the artwork is perceived.
AM DeBrincat is a Maltese American painter based in Brooklyn, New York. Her work blends oil paint, digital photography, and printmaking into layered paintings that explore a person's online constructed identity and offline life. DeBrincat's signature mixed-media paintings embrace strangeness and offer beauty in its unexpected approach to figurative painting. Each painting contains a woman figure which is composed of a digital photograph, and the face of each figure is isolated from the photo, leaving a negative space which DeBrincat fills with a lush, oil-painted rendering of the face. The result is intensified when the viewer feels like they're entering a silent, colorful, masquerade ball.
Born in 1981, Ben Riley is an accomplished British artist based in Staffordshire. Music played a significant role in his journey to becoming a professional artist. Unlike their digital counterparts, the vinyl records utilized in Riley's practice are a nature of their own. Appealing to the eye, the ear, and the touch, his completely vinyl portraits, broken down to fragments and dust, allow viewers to feel and visualize the vitality of pressed music which is so quickly being lost in the digital age.
Born in 1974 in Mexico, Hugo G. Urrutia is a multidisciplinary artist-designer, interested in the cross-pollination between art and architecture. His artwork challenges the notion of what constitutes a piece of art. A graduate and active member of the Architectural Association in the United Kingdom, Urrutia's work creates a distinct spatiality located at the interstice of art and architecture. His work explores and uses technology for design and fabrication, with a sensitive and conscious reminder of the creativity of human endeavor.
British artist Chris Wood uses a range of high and low-tech optical materials to harness patterns of light that suggest ephemeral glimpses of moments in the natural world. Her sculptures are simple arrangements creating kinetic patterns in response to the environments in which they are placed. The artist often uses a material called dichroic (meaning "two color") glass, which was developed by NASA in the 1950s. Dichroic glass has a special optical coating meant to reflect certain wavelengths of light while letting others through.
ARTWORKS