Ash Almonte Live Painting
January 1, 2019 - February 2, 2019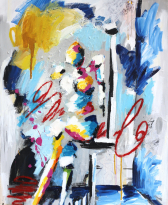 Ash Almonte Live Painting Event
At Artspace Warehouse
Saturday, February 2, 2019
4 – 7pm with refreshments at 6pm
Join Artspace Warehouse for a live painting session by gallery represented artist, Ash Almonte. The artist will be painting for 3 hours in an event that is open to the public, and will be talking about her process, inspirations, and media while painting.
Almonte is known for her gestural abstraction and her unique color palette. She perfected her style while receiving a Bachelor of Fine Arts from McMurry University in Abilene, Texas. Inspired by music and haute couture, Almonte uses a variety of media including enamel, oil, acrylic, and graphite. Her paintings have a continuous motion, with no definitive end or beginning to their lines. She has a playful spontaneity and fearless approach to her work.
Since the opening of Artspace Warehouse in 2010, the gallery continues to be an industry leader in affordable museum quality artwork making, collecting art accessible and budget-friendly. With a gallery in Zurich and two galleries Los Angeles, Artspace Warehouse specializes in guilt-free international urban, pop, graffiti, figurative and abstract art. The expansive 5,000 square foot space offers a large selection of emerging and established artists from all over the world.
The gallery boasts a roster of well-known and high-profile collectors that range from celebrities to museum professionals. The gallery discovers, supports, and promotes the latest generation of emerging and mid-career artists and provides the Los Angeles art community with new vision and fresh voices.