The Human Form
May 2, 2022 - June 10, 2022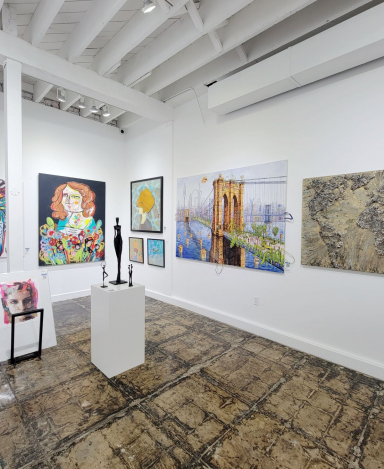 As post-modern claims have been pressed against traditionally modernist territory, the human form bridges people, places, and generations. The human figure has appeared in portraits, has been used to tell stories or express beliefs, or used to explore what it is to be human. In this exhibition, "The Human Form" the artists explore varying ways to express what it is to be human in a myriad of unique materials with thoughtful juxtapositions.
Mark Acetelli's
paintings may go through multiple incarnations with the past lying just beneath the surface, adding to its overall dimension and depth. In his work, Mark seeks to evoke a feeling rather than depict a defined image. He uses primarily oils and encaustics to create thickly layered canvases with emotive bursts of color. His works show a world where imagination and reality come together.
Italian painter Giuseppe Beddru has distinguished himself in contributing conceptual insight to the course of contemporary art by embracing experimentation of non-traditional materials, such as thick superposed Plexiglas-panels. Many of Beddru's multi-media paintings include the visual motifs of classical Greek bas-relief sculpture flattened within the confines of Plexiglas. Athletes and female portraits in profile are reminiscent of coins and popular classical imagery.
Nando Kallweit is inspired by seemingly disparate cultures; the strength of ancient Egyptian sculptures, the dynamic forms of the modern Cubist movement, and an observation of our contemporary existence. Combined with a considerate approach, Kallweit renders archaic materials, such as blackened oak and bronze, with a palpable sensitivity. These forms are varied tirelessly in his creations. His elongated sculptures depict aspirational human figures in proud stances that are aesthetically pleasing.
ARTWORKS