Out Of Left Field
April 3, 2022 - May 1, 2022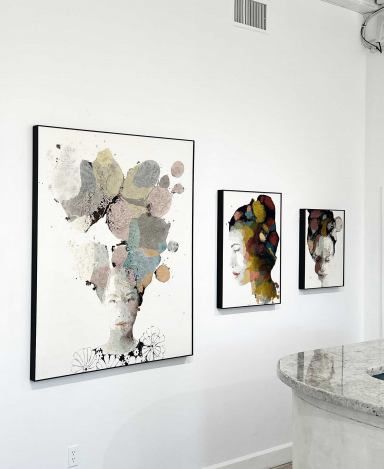 Works of art created through unorthodox means are refreshing, exciting, and inspiring. They are a marker of the constantly changing and evolving art scene. More importantly, it's a reminder to the rest of us that art isn't just a childhood phase. Art spans our entire lives. Anyone is capable of creating beauty and wonder. The artists featured in this month's exhibition have created their artwork by using some unique approaches.
German artist Thitz puts a new spin on the tradition of the artist on the Grand Tour: he paints city scenes upon paper bags scavenged in the places he visits. The bags are opened out flat for maximum coverage, and the paintings are executed with acrylics in energetic delineations of bird's-eye views of individual landmarks.
Alessandro Casetti uses industrial paints, mainly water and white spirit enamels applied solely by gravity on wood or canvas. The colors take on different shapes and textures creating the effect of crackle. The work, therefore, becomes material, alive. The result is that of having, in front of your eyes, something infinitely large or infinitely small.
ARTWORKS