Outlook Of Entity
March 6, 2022 - April 2, 2022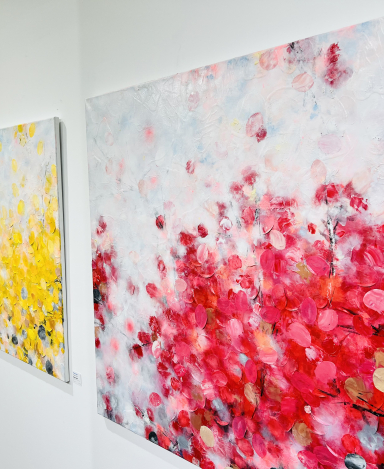 The landscape artists featured this month create exquisite, highly detailed environments that each have a unique entity and provide a platform for us to immerse ourselves in a collaborative experience with the artist's view of the world. Each decision and brushstroke demonstrates the power of landscape to locate the viewer in time and place—to record, explore, and understand the natural and man-made world. These artists interpret the specifics of a parcel of land or dramatic natural phenomena.
The organic aesthetic and textures of Peter Kuttner's original boho minimalist artworks are the result of patient layering and unique uses of media. Through a combination of collage and paint, Kuttner is able to find personal expression in the clear colors and contrasting soft textures he creates. With a focus on creating "Zero-Waste Art", Kuttner implements a unique form of collaged paintings to create each composition. Each of these mini paintings within the larger composition are entirely unique through the individual reactions between each color and an intermediary glass surface.
The delicate and poetic artworks of painter Frederic Paul reference his Asian roots in expressive and elaborate compositions. Inspired by the bold colors, spices, flora, and landscapes of Asian cities Paul depicts the intensity of these environments.
Vibrant, textured, and abstract landscapes convey fleeting moments in Lee Herring's paintings. His energetic artworks are inspired by everyday moments and memories. In these moments, Herring captures ephemeral spaces in a spontaneous, dream-like landscape.
ARTWORKS