Characteristics Of Countenance
January 29, 2022 - March 5, 2022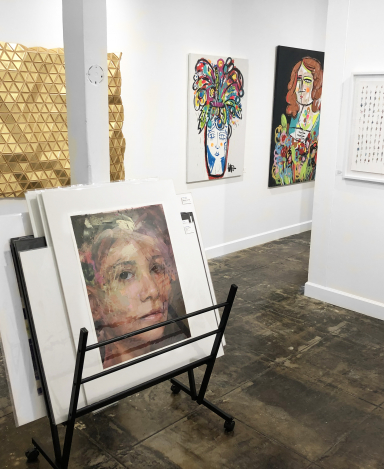 The intimacy and immediacy that come from creating a portrait can be a journey of discovery for both the artist and the viewer. Whether it is a piece exploring the face and gestures of a person or a self-portrait it serves as a personal visual memoir and attempts to probe what the "self" actually means. The trademarks that define each of the featured artists in this month's exhibition, "Characteristics of Countenance", lead us each along a very unique journey that may help us answer some inner questions and also ignite new revelations.
Building on the synthetic intensity of digital art, Alea Pinar Du Pre's figurative style depicts a familiar but warped daily life. Portraits of women are introduced through shattered reflections as Pinar Du Pre reveals the fragmented identities of her subjects.
Danielle Coenen's faces merge with abstract marks of paint and mixed media. At times, they are more evocative, with an intense gaze and deconstructed mouth or concealed eyes. Other times, the character's expression is quiet, but there is tension against the quality of the paint, looking eroded from different textures that are scraped and scratched in several layers. These close-up expressions floating in abstraction are moments within mindscapes.
Eddy Lee's figurative surrealist portrait paintings on exposed wood depict emotive sirens that evoke a sense of mystery and seductiveness. The artist's work is inspired by the works of Audrey Kawasaki, lifestyle illustrators of the 60's such as Robert McGinnis and Bob Peak, and anime. Lee's colorful, intriguing women are painted with acrylic and gouache on hand-built cradled wood panels.
Kate Tova's work incorporates vibrant, large-scale multimedia artworks that incorporate reflective mediums and thick textures. Colors splash across the page melding into flourishes of sequins, rhinestones, and glitter. The natural beauty of her subjects is juxtaposed against the "engine of technology" inspiring personal and innovative compositions.
ARTWORKS