Landscapes Of The Mind
July 3, 2021 - August 6, 2021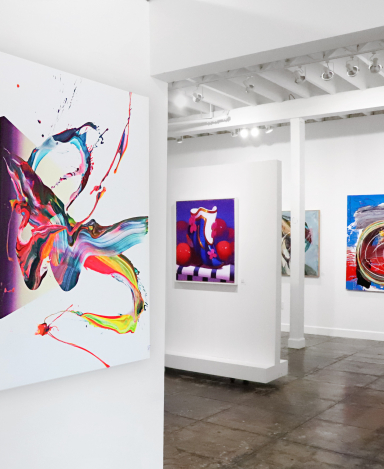 People often respond to challenging landscapes by trying to avoid or ignore them, but this only makes them less aware and able to negotiate the challenges (like putting a blindfold on). This exhibition is meant to challenge the viewer – to interpret "landscape" as the sum of all aspects—natural, cultural, geographic, psychological, biological, artistic, whatever we can think of— to stress the human perception as a defining element of the landscape. July's exhibition, "Landscapes Of The Mind", features Artplex artists AM Debrincat, Alex Voinea, and Frederic Paul.
AM DeBrincat's signature mixed-media paintings embrace strangeness and offer beauty in their unexpected approach to figurative painting. Each painting contains a woman figure which is composed of a digital photograph, and the face of each figure is isolated from the photo, leaving a negative space that DeBrincat fills with a lush, oil-painted rendering of the face. The result is intensified when the viewer feels like they're entering a silent, colorful, obscure world.
The delicate and poetic artworks of Frederic Paul reference his Asian roots in expressive and elaborate compositions. Inspired by the bold colors, spices, flora, and landscapes of Asian cities Paul depicts the intensity of these environments. The complicated yet effortless looking layers of Paul's artworks are composed of a range of media. Materials include torn sections of canvas, rice paper, acrylics, and oil. His paintings feel organic and alive with a sense of life that comes into being through their three-dimensionality and depth.
Fading backgrounds create depth and perspective in Alex Voinea's abstract works. He transmits vibrancy and motion through drippings and large sweeping brushstrokes that include various saturated and fluorescent colors that bring movement and fluidity to his paintings. Moments of tension and sublime relief characterize paintings that evoke a thousandth of a second. These undulating strokes slither among one another and vibrate against geometric planes of color.
ARTWORKS