The Familiar Unknown
June 6, 2021 - July 2, 2021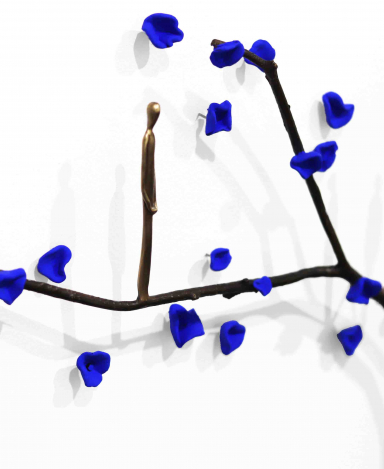 June's exhibition "The Familiar Unknown" explores the themes of fragility, transience, and otherness, the delicate borders that exist between nature and humanity, and the cycle of life.
By creating new content and context through the physical act of making and exploring the disjunction between figuration and abstraction, these artists challenge the viewer's experiences of fear, anxiety, and the impulses of humankind. This exhibition is an excellent opportunity to feature Lee Herring as well as two new Artplex Gallery artists, Jennyfer Stratman and Nico Amortegui.
Each of Lee Herring's paintings evolves through a spontaneous process. The conventional paintbrush is abandoned as the artist creates layers of impasto pastel hues using acrylic, markers, neon spray paint, and a glaze of varnish with pallet knives, trowels, and scrapers. The physicality of his work is evident in the visceral nature of his paintings.
Jennyfer Stratman imagines trees and branches as a figurative link between the natural environment and our physical presence. The implied internal landscape of the body can also be reflected in how our surroundings from birth affect our sense of identity.
Nico Amortegui begins each of his figurative artworks as an abstract expression of colors. Once his background is complete, a figure appears to him in the abstraction. He then begins transforming his artwork's image with the "left-eye" of his painted figure first. This eye leads the rest of his composition as he adds and conceals with many additional layers.
ARTWORKS