The Beauty Myth
April 3, 2021 - May 7, 2021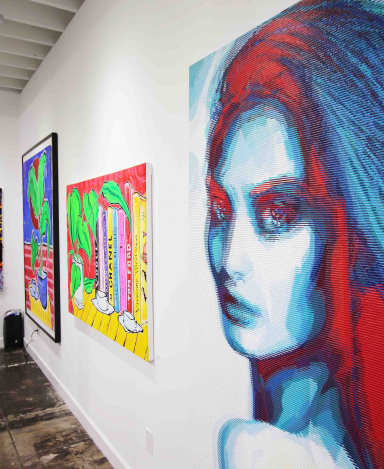 Throughout history there has always existed the concept of beauty, it has been idealized, stigmatized, challenged, and redefined endlessly. Beauty as a concept — in art, culture, and society — is ever-changing. It is also increasingly complex, as viewers and artists alike drive for deeper discussion around beauty in contemporary art.
Through April's exhibition "The Beauty Myth", artists embrace the beautiful with a contemporary perspective that brings depth, delight, and dialogue for the viewer. Starting the conversation this month are Artplex Gallery artists Alea Pinar Du Pre, Kate Tova, and Elise Remender.
Alea Pinar Du Pre's technique involves a fusion of materials, outlooks, and diverse inspirations. With layered materials such as acrylics, printed elements, and gilt captured under an epoxy lens, Pinar Du Pre finds a physical representation of the layered reality she aims to depict in her subjects.
Colors splash across the surface of Kate Tova's artwork, melding into flourishes of sequins, rhinestones, and glitter. The natural beauty of her subjects is juxtaposed against the "engine of technology" inspiring personal and innovative compositions. Tova's art has appeared on the covers of foreign music records, been published in international magazines, and even inspired a jewelry collection.
Elise Remender captures the romantic glamour of a bygone era in her contemporary figurative paintings. Fantasy, mid-century fashion, and the glamour of travel and coastal living inform soft brush strokes and abstracted beauty; reminiscent of vintage advertisements and dusted sunlight. Remender has traveled all over the world gaining inspiration for her work. Her most recent series, Bathing Beauties, which captures the human form and abstracts it through light and reflection, was inspired by the vintage elegance and history of Southeast Asia's historic hotel pools and gardens.
ARTWORKS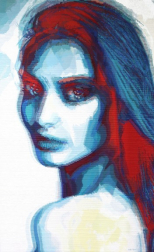 Mila
US$ 16,200
193 x 119