Integrating Images
March 6, 2021 - April 2, 2021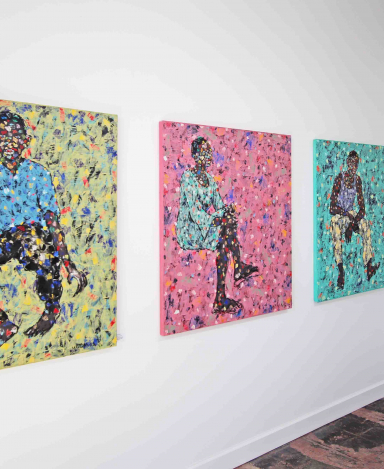 A portrait is more complex than just a picture of someone's face. A lot of aspects come together to tell a story in a portrait even if one cannot see a face clearly. Everything from body language, to lighting, to clothing gives clues to a story. Because of our history and attachment to visuals, integrating imagery can be extremely powerful. Artists exploring this theme can create a compelling landscape often telling us a story by making us question what will happen next.
The month of March brings our next exhibition, "Integrating Images", which features the artwork of Marco Pittori, Juana Cespedes, and Emeka Udemba.
Marco Pittori has always worked with photography and uses his own or the licensed photographs of others, such as renowned Los Angeles photographer Brad Elterman. The artist states of Elterman's photos, "Brad's photos provide a rare, often raunchy glimpse into a rock and roll history where it seems Brad is always at the right place at the right time, camera-ready."
Deciding to infiltrate the artistic circle of Barcelona after years of solo creation, Juana Céspedes joined the Agrupacion de Acuarelistas de Catalunya where masters helped her see the liberating power of abstract watercolor, with its ebbs and flows. In 2004, a trip to Venice would forever change her conception of light and composition and led to the idea of folding paper to transform the canvas into a three-dimensional object. As the folds catch the light, her artwork changes over the course of a day.
Emeka Udemba's artworks revolve around issues of "otherness". He creates images weaving together materials and fragments that invite us to question and reimagine new landscapes of memory, history, the present, and the future. These artworks speak beyond the geographies of hierarchy, power, conquest, and dominance. They allude to landscapes where we can all celebrate humanity and our differences. Ultimately, Udemba's work is bout visibility, empowerment, and solidarity.
ARTWORKS