Celebrating Contemporary Latinx Artists
December 31, 2021 - December 30, 2022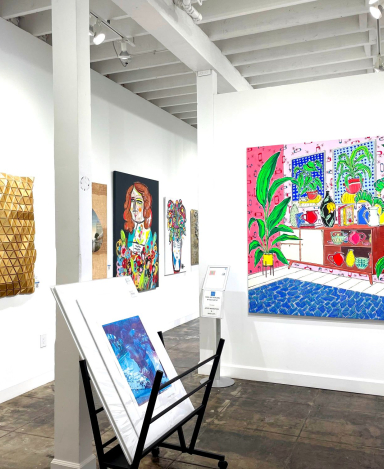 Drawing upon varied influences and experiences of Latin American cultures and histories, these contemporary artists explore perpetually shifting cultural, political, societal, and artistic identities within their artworks.
Artspace Warehouse and Artplex Gallery are proud to celebrate the creative works of contemporary Latinx artists represented by the galleries. Drawing upon varied influences and experiences of Latin American cultures and histories, these contemporary artists explore perpetually shifting cultural, political, societal, and artistic identities within their artworks.
Uruguayan artist Leonardo Aguirre constructs vibrant, visually animated scenes within environments pulled from his imagination. These colorful constructions are filled with everyday symbols, recognizable signs, and familiar elements allowing the viewer to imagine certain scenes one day and discover another story the next. Aguirre arranges the whimsical components of his artworks in unexpectedly harmonious settings whose sur-realities often feel more at home in an alternate dimension.
Cuban American artist Frankie Alfonso creates complex paintings filled with lively colors and spontaneous compositions. Alfonso's work is best described as a style of automatic writing where he manipulates simple lines to make complex arrangements of line, color, and shape. His style is a mix of cubism, cartoon animation, surrealism, graffiti, and abstract expressionism.
Graffiti Cubist artist Nico Amortegui paints with unapologetic color and boldness. He states, "My art is rooted in the experience of becoming an immigrant – something I didn't want to imagine at age 17 when Bogotá was all I knew. Being forever between two cultures has shaped my views and molded the themes of my pieces." Amortegui begins each of his figurative artworks as an abstract expression of colors, and once his background is complete, a figure appears to him in the abstraction. He then begins transforming his subject with the left eye of his painted figure allowing this eye to lead the rest of his composition as he adds and conceals layers of color and texture.
Danny Brown is a first-generation American artist born in Los Angeles. Danny Brown's artworks allocate an intrinsic connection between himself and the diverse communities occupying Los Angeles. Brown's art coalesces youth culture, art history, fashion, and American consumerism and melds them all to create his unique style. Instantly relatable and recognizable, his cathartic paintings represent contemporary issues as well as a demographic that is traditionally underrepresented in fine art.
Patricia Corredor's modern metal sculptures are a bridge between abstraction and figuration, concept and expression. She is interested in using symbols of nature as a resource in her original artworks with themes inspired by experiences from the environment, images, objects that evoke memories, and societal influences. Corredor imagines her work "as if the figures and images had the necessity to feel the air, experience climatic changes, and contribute to the landscape in a public space."
Nelson De La Nuez studied Art History at Boston University where he was inspired by the French Impressionist and Post-Impressionist periods. Though his paintings are clearly Pop Art, the subtle humor of artists like Edouard Manet and Pablo Picasso echoes throughout his playful work. Listed on the "Who's Who List of the Most Collected Artists of Our Time" list, his works are original, bold, and outspoken. De La Nuez is known for his distinctive, trademarked style which he calls "Art on the Edge," utilizing each edge of the canvas or wood panel.
Los Angeles native Rachel Funes fuses original and iconic characters in her vivid graffiti-inspired twisted pop artworks. Within each artwork, Funes blends a mix of humor, eccentricity, and controlled chaos. Her compositions reimagine the familiar and add action to the often-stagnant representations of various characters. Rachel Funes studied at Otis College of Art and Design and creates graffiti-inspired pop art beyond "street" art. She has always believed that "the sharp yet textured lines, vivid colors, cartoon representations, and bold texts that encapsulate this art form are what makes a street alley or major city sing."
As an artist born in post-revolutionary Cuba, Carlos Gamez de Francisco paints a bright distorted reality in which he demystifies classical beauty and presents it as a process in its natural form. The figures in his portraits are superimposed and manipulated through the artist's own experiences of historical figures and events. Heavily influenced by his Cuban upbringing in Russian-governed academia, Gamez de Francisco rethinks and questions the accuracy of historical narrative within the context of censorship of contemporary art and decontextualizes epochs and artistic symbols to establish a connection between the realities of the present and the past.
Darwin Estacio Martinez was born in 1982, in Manzanillo, Cuba. He is a graduate of the Professional Academy of Fine Arts "El Alba" in Holguin, Cuba, and went on to graduate from the Higher Institute of Arts in Havana. He is currently a professor at the National Fine Arts Academy (San Alejandro) and at the Higher Institute of Arts in Havana. Martinez says of his artwork, "My paintings are intended to embody general ideas through fragments and details that allude symbolically to a chain of actions. My compositions remove the contexts which dictate to the viewer who or what they are seeing and in this allows for the interpretation to be fluid and personal."
US Navy veteran Randy Morales fuses nostalgia and graphic expressionism within his street-pop artworks. The choice of subject matter within his artworks is strongly influenced by his experience growing up in the 90s. He says, "Being a young African American and Puerto Rican male in Washington state already being different from all the other kids I chose to hide my creative side and just go forward with life day by day. I ended up in the military since I had no other plans in life and found myself doing creative things during my free time just to pass time." Carrying on the theme of feeling like an outsider for much of his life, Morales focuses on characters that he would consider less "obvious" to the masses but more emotionally evocative to those who recognize them.
Mexican artist Emilio Rama's original artworks are characterized by using elements and references of Pop Culture with a critical eye on consumption and entertainment. The graphic composition of his paintings reflects the fragility of our environment and our tendency to overuse resources by presenting conventional objects as paper figures. However, Rama's works are not all about protest, they are instead meant to be fun, rich in texture, colors, and figures.
Creating still-life artworks that feel tangible is one of the main goals Colorado-based artist Jon Ramirez has as he composes his photorealistic paintings. Ramirez draws inspiration from street art and urban culture, exploring the study of light and textures. What he sees in his own work is a colorful splash that draws the eyes into a subject that he hopes arouses a memorable moment or just a favorite drink. His incredibly detailed compositions are created using acrylic and spray paint on wood. Rather than just painting an object, he captures action and movement in both a compressive and explosive manner.
Born in Chile in 1980, Sebastian Riffo Montenegro is a painter and digital artist. The literal lines and meticulous technique of his works offer an unquestionable realism where the images, textures, and palette are clear, frontal, and concrete. However, Riffo Montenegro urges the viewer to delve into the underlying mysteries of the series; reconsidering what is initially offered as mere imagery. Deliberately worked from photographs, his paintings act as a catalyst for criticism towards the subconscious consumption of images and the effect that consumerist social constructs have on this consumption.
Heny Steinberg was born in Mexico City and received a degree in graphic design from Instituto Nacional de Bellas Artes y Literatura (National Institute of Fine Arts and Literature) in Mexico City. From 1984-85, she studied under Mexican Expressionist painter Eduardo Cohen while developing her own style of abstraction reminiscent of American Abstract Expressionist Helen Frankenthaler, though with a clear Mexican Cubist influence. Steinberg arranges her paintings through a grid or lattice system which is then deconstructed and re-imagined in a color palette that is uniquely soft, while also dynamic, emotional, and playful. The shapes within Steinberg's work transcend their two-dimensional representation and have meaning beyond appearance. Her process begins with concrete images and references, yet over time gives way to her process of decontextualization.
Born in 1974 in Mexico, Hugo G. Urrutia is a multidisciplinary artist-designer who is interested in the cross-pollination between art and architecture. His artwork challenges the notion of what constitutes a piece of art. A graduate and active member of the Architectural Association in the United Kingdom, Urrutia's work creates a distinct spatiality located at the interstice of art and architecture. His work explores and uses technology for design and fabrication, with a sensitive and conscious reminder of the creativity of human endeavor.
Sergio "VALENZ" Valenzuela was born in Guatemala in 1970. He is a graphic designer, creative director, and publicist, as well as a professor, teaching university courses on creativity, advertising, and graphic design at his alma mater. VALENZ tells stories with everyday objects. He says of his work, "By using elements such as chairs, ladders, beds, monocycles, trapeze artists, swings, machines… it is a way of telling stories about life. The chairs signify, according to the context, opportunities and the patience required for them to step into our lives. The ladders represent our desire to climb, to continue our personal growth. Beds represent periods when we sleep and dream, things we cannot share with anyone else."
James Zamora is an American artist known for his unique "aisle paintings". Using different spatial compositions, the artist translates common marketplace imagery into a stylized, elevated environment. Through Zamora's work, he explores the particularity between the relationship of our eyes with the subtleties of our immediate reaction. His paintings investigate current trends and their effects on the consumer.
Born in Orizaba, Mexico in 1987, Jose Carlos Zubiaur ideates art through an emotional and intuitive approach, where the work not only uses existing symbols but creates new meaning and becomes a symbol in itself. He seeks to highlight the concept of personality as a process of continuous change, in which the perception of the individual is transformed by digital systems where we are capable of reinventing ourselves. Zubiaur strategically maintains the artificial feeling of high gloss fabricated objects and uses this emphasis on highlight and shadow to create the illusion of a light source passing by or the subject rotating in space. Within each painting, there is endless space surrounding the changing subjects which seem to simultaneously exist in both the digital and physical world.
ARTWORKS