Nico Amortegui
Follow artist and receive updates when new artworks are available
follow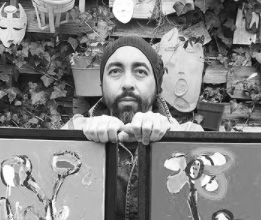 Graffiti Cubist artist Nico Amortegui paints with unapologetic color and boldness. Amortegui's expressive style incorporates many hidden layers of color and texture that make the largest statement when viewed in person.

He begins each of his figurative artworks as an abstract expression of colors. Once his background is complete, a figure appears to him in the abstraction. He then begins transforming his artwork's image with the "left-eye" of his painted figure first. This eye leads the rest of his composition as he adds and conceals with many additional layers.

His artwork is rooted in the experience of becoming an immigrant at age 17 as well as coming from a family of artisans. Being forever between two cultures, has molded the themes of his artworks.