Jonjo Elliott
Follow artist and receive updates when new artworks are available
follow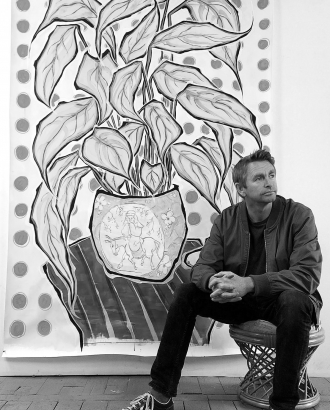 Jonjo Elliott is a Leicestershire-based mixed-media artist whose paintings showcase vibrant and fantastical scenes of detailed interiors, portraits, landscapes, and still life. His unique style combines loose graphics with abstract elements, referencing art history, personal memories, and dreams. Elliott's work focuses on the interplay between abstraction and representation and encourages a youthful and joyful outlook on life, inspiring viewers to escape and lose themselves in the colors of his work.

The artist has always claimed to be a "glass half full" person and his paintings project joy. His paintings are filled with exciting colors to brighten the world around him.

Elliott says of his work, "I have a knack of being happy most of the time and I want to share this with people that see my work. I want the works to offer an escape; somewhere viewers can lose themselves for a while amongst the colors."

A graduate of De Montfort University, Elliott has exhibited in art fairs and galleries in New York, London, Florida, and California.