Jonjo Elliott
Follow artist and receive updates when new artworks are available
follow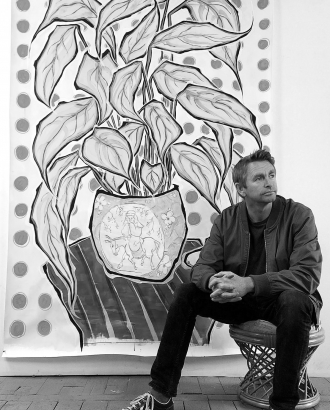 Jonjo Elliott is a mixed-media artist working in a range of materials, from paper and paint, to skate ramps and chairs. Working from his studio in Leicestershire, England, his vibrant works are inspired by domestic spaces and his large scale still-lifes bring color and delight into the homes of his collectors.

His work is remeniscent of Fauvism and his collections encourage a youthful candor. Plants thrive in environments bathed in color and pattern. His focus is on the crossover between abstraction and representation, and he is constantly exploring where painting can take him and the viewer as a means of expression.

The artist has always claimed to be a "glass half full" person and his paintings project joy. His paintings are filled with exciting color to brighten the world around him.

Elliott says of his work, "I have a knack of being happy most of the time and I want to share this with people that see my work. I want the works to offer an escape; somewhere viewers can lose themselves for a while amongst the colors."

A graduate of De Montfort University, Elliott has exhibited in art fairs and galleries in New York, London, Florida, and California.