Elise Remender
Follow artist and receive updates when new artworks are available
follow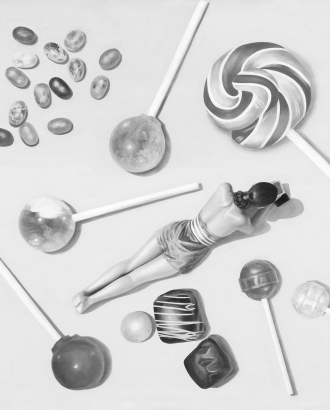 Elise Remender's artistic journey began at an early age in her hometown of Phoenix, Arizona. Her love for visual storytelling led her to pursue a degree in illustration and animation at the esteemed Academy of Art University in San Francisco, California. Remender captures the romantic glamour of a bygone era in her contemporary figurative paintings. Fantasy, mid-century fashion, and the glamour of travel and coastal living inform soft brush strokes and abstracted beauties reminiscent of vintage advertisements and dusted sunlight.

Growing up in Phoenix, Arizona Remender recalls "Everyone had a pool and I was drawn to the interplay between the reflected light and turquoise color of the water." The dreamlike quality of shimmering turquoise pools inspired the artist to imagine a fantasy world of timeless beauty and the liberation of endless summer light. Remender has traveled all over the world gaining inspiration for her work. Her most recent series, Bathing Beauties, which captures the human form and abstracts it through light and reflection, was inspired by the vintage elegance and history of Southeast Asia's historic hotel pools and gardens. It evokes a bygone era when Ernest Hemingway and Jackie O. were among the clientele.

Remender's work has appeared in galleries in the US and Asia, and in GQ Magazine, Architectural Digest, Dwell, California Home, People, and many other publications. Her paintings hang in luxury properties including The Ritz Carlton San Francisco, The Hard Rock Hotel Las Vegas, and Hilton properties across the United States, as well as in the homes of celebrity collectors including Ryan Seacrest and Kylie Jenner.