Bruce Rubenstein
Follow artist and receive updates when new artworks are available
follow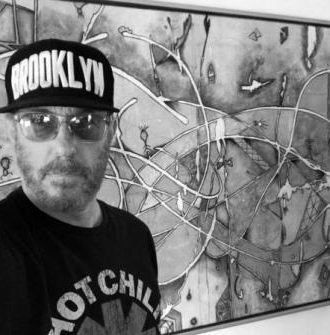 Bruce Rubenstein's large-scale paintings have a rigid and strong composition, but maintain organic shapes and soft colors. His paintings pull from abstract expressionism and cubism, harnessing a striking contemporary edge inspired by his experiences in New York and Los Angeles.

At the core of Rubenstein's visionary practice lies an unmistakable fusion of abstract expressionism and contemporary finesse. His canvases pulsate with electrifying energy, rendering each brushstroke a testament to his unwavering dedication to his craft. Imbued with the spirit of the late 1950s and early 1960s expressionist movement, Rubenstein's creations resonate with a restless vitality that captivates and enthralls.

For Rubenstein, painting transcends mere technique—it is a spiritual odyssey that transforms him into a conduit for a greater creative force. Within this transcendent process, Rubenstein fuses formality with abstraction, and modernity with antiquity, birthing a body of work that embodies the very essence of art's transformative power. Since 1992, his awe-inspiring works have graced numerous prestigious group and solo exhibitions across the globe, capturing the imagination of art enthusiasts and connoisseurs alike. Film stars Adrien Brody and Mickey Rourke are among Rubenstein's collectors.