Ash Almonte
Follow artist and receive updates when new artworks are available
follow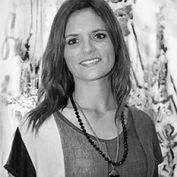 Ash Almonte, a renowned artist born in Abilene, Texas in 1983, has captivated audiences nationwide with her innovative style. Her layered figurative aesthetic incorporates abstract expressionist elements, resulting in a distinctive artistic vision. Almonte's passion for creation drives her to experiment with diverse materials, resulting in spontaneous works of art.

"The Chandelier series was created to express how we inspire one another," explains Almonte. "As an artist I am attempting to portray this idea visually through the expression of light, the light we provide one another. The beauty and complexity of a chandelier is what I find best represents this light. Throughout all my works are hidden winding abstract circles, representing unconditional love without an end or beginning."

Almonte completed a Bachelor of Fine Arts degree from McMurry University in Abilene, which served as a catalyst for her signature style. She also serves as the executive director of an organization dedicated to providing underprivileged youth in foster care with essential resources and creative opportunities, which informs her artistic process.