Ash Almonte
Follow artist and receive updates when new artworks are available
follow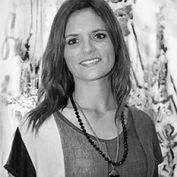 Ash Almonte was born in Abilene, Texas in 1983. Quickly gaining nationwide attention for her unique and fresh style, Almonte uses references to abstract expressionism and combines it with a layered figurative aesthetic. Fueled by a desire to create, Almonte began experimenting, using anything she could find to turn into a spontaneous work of art.

"The Chandelier series was created to express how we inspire one another," explains Almonte. "As an artist I am attempting to portray this idea visually through the expression of light, the light we provide one another. The beauty and complexity of a chandelier is what I find best represents this light. Throughout all my works are hidden winding abstract circles, representing unconditional love without an end or beginning."

After high school, the artist went on to obtain a Bachelor of Fine Arts from McMurry University in Abilene, where she began to perfect her unique style, working mainly with mixed media, including enamel, oil, acrylic and graphite. Ash Almonte is also the executive director of an organization providing creative opportunities and necessary resources to kids in foster care.