What Next
April 12, 2020 - May 15, 2020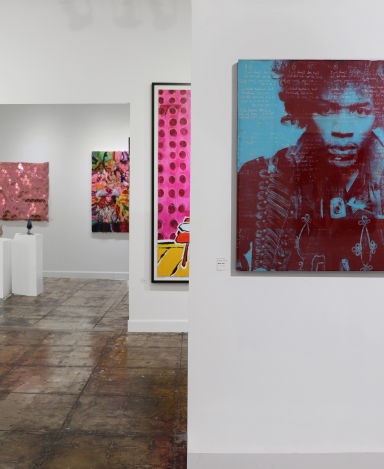 Artplex Gallery announces new exhibition What Next, a show featuring internationally established artists Kate Tova, Ashleigh Sumner, Bernard Simonuvic, and Nando Kallweit and their captivating new original artworks.
The featured artists do not hesitate to question their path of success with the challenging question "What Next?". They creatively search for new opportunities to explore new media, exhibitions, future opportunities and while following their passion and dreams.
Kate Tova is a full-time contemporary artist who experiments with vibrant, large-scale multimedia artworks, incorporating reflective mediums and thick textures. Tova has earned awards and critical acclaim participating in art exhibitions in Vienna, Berlin, New York, Prague, and other cities around the world. Tova's art has appeared on the covers of foreign music records, been published in international magazines, and has been collected worldwide.
Kate was born in the small riverside town of Balakovo, Russia. As a child, she demonstrated early virtuosity in visual arts and soon moved to Moscow to expand her opportunities in the busy capital. Her constant urge to create and experiment won her recognition across Russia, Europe, and the United States.
Ashleigh Sumner is a self-taught artist living and working out of the Arts District in downtown Los Angeles and Jingletown, Oakland. Born in 1979, Sumner received a Bachelor of Fine Arts from Western Carolina University before moving West to Los Angeles. Sumner has exhibited nationally and internationally. Her works are in private collections, such as in Hong Kong, London, New York, Los Angeles, and San Francisco.
Much of Sumner's work is heavily inspired by industrial areas, inner-city communities, and the modern day street art movement. Sumner's mixed media process often involves iconic images along with photographs captured on her cell phone. These photos are printed and applied repeatedly to wooden surfaces, creating multiple stacked and torn layers of distress paper imagery. Several heavy layers of resin are added to each to create a smooth, modern finish to the distressed, gritty artwork underneath.
Bernard Simunovic is a Croatian artist and designer with an inspiring life story: in the early 1990's, Simunovic escaped the Balcan conflict as a refugee. Leaving his mother, his hometown, and his family; Simunovic interrupted his studies and came to Germany as an unaccompanied minor. He pursued the fine arts and became prolific in his techniques from classical painting to collage and sculpture.
Simunovic's carefully crafted compositions frequently express a delicate sense of intimacy and introspection. A simple black line, the "thread of life," run through and along clever color-blocking. In his latest work, Bernard unites the disciplines of fine art, practical design, and sculpture with unique compositions that appeal to both the creative and practical. Graphic paintings, carefully thought out with shadow and light, become sculptural. His artwork is characterized by impeccable craftsmanship; and a stimulating and unsuspecting complexity, drawn from the strength of simplicity.
German artist Nando Kallweit produces figurative sculptures and reliefs with aquiline and graceful appeal. After completing engineering school, Kallweit began a successful career as a freelance sculptor. His work has since become coveted for public installations and private collections alike.
Whether viewed in art exhibitions, large-scale installations, or the urban environment, his work is remarkably striking. The interplay between physical object, negative space, and observer creates emotions and enticing poetry that change depending on the context. His work is created using the lost wax method – with the ceramic mold shattered in order to reveal the bronze figure. Such process renders each artwork completely unique.
Kallweit is inspired by seemingly disparate cultures; the strength of ancient Egyptian sculptures, the dynamic forms of the modern Cubist movement, and an observation of our contemporary existence. Combined with a considerate approach, Kallweit renders archaic materials, such as blackened oak and bronze, with a palpable sensitivity. These forms are varied tirelessly in his creations. His elongated sculptures depict aspirational human figures in proud stances that are aesthetically pleasing.
ARTWORKS