Wide Open Playfulness
June 13, 2020 - July 17, 2020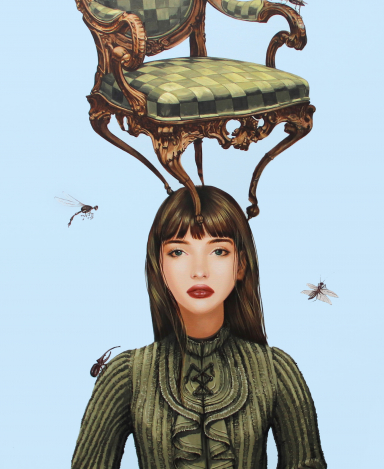 Artplex Gallery's Summer exhibition Wide Open but Closed features artwork from Carlos Gamez de Francisco, Iqi Quoror, and Marco Pittori.
As a post-revolutionary Cuban born artist, Carlos Gamez de Francisco paints a bright distorted reality in which he demystifies classical beauty and presents it as more of a natural process in its natural form. The figures in his portraiture-style artworks are superimposed and manipulated through the artist's own experiences of historical figures and events.
Francisco's style is heavily influenced by his Cuban upbringing in a Russian governed academia setting. This presence exposed Francisco to the world of figurative arts while censoring contemporary art. As this was the accepted dogma, the artist began to rethink and question the accuracy of history and its telling. He began to understand that decontextualizing epochs and artistic symbols was the tool he could use to establish a connection between the present and the past. This near-obsession with the past and storytelling translates into his work, which provides an escape from reality while creating an illusory world.
A native of Indonesia, Iqi Qoror started his career as a professional Visual Artist with a Master's Degree in Fine Art. His works revolve around the questions of trust, interspersed with fragments of modernity set against his own social experience. Each artwork represents a point of self reflection: " We live in a catastrophic world and I express my response, my scream, through my works, and I'm constructing a question of our madness."
Qoror constantly challenges himself to be more experimental and versatile in his art practice, from installation to mixed media painting. Qoror has established himself as one of the fastest rising stars of the Indonesian art scene. Starting with the gradual dominance of the South East Asian art market, Qoror now has a growing international collector base through his exhibitions in international hot spots such as Singapore, Hong Kong, and now Los Angeles.
Swiss artist Marco Pittori's multi-layered photographs are based on Brad Elterman's iconic images "Behind the Beverly Hills Hotel, 1977". The motifs are carefully placed and layered, until they reveal a whole new reality. They are set in a new context and transformed with the help of strong colors. Pittori creates vibrant pieces that pay homage to the mesmerizing images of Brad Elterman and the mythic culture of 1970's Hollywood.